Global Development
Our Services
Region
Scope of Business
Regulatory &
Consulting service
Monitoring
DM/STAT
PMS
Audit
SMO
ICCC
ICC
Japan
○
○
○
○
○
○
○
○
Korea
○
○
○
○
○
-
-
-
Taiwan
○
○
○
○
○
○
-
-
China
○
○
○
○
○
-
-
-
Feature 1
If intellim are awarded a study from Japanese Client, intellim will assign Japanese Project manager to responsible for your project. Our project manager will communicate with you to answer to your questions.
In Taiwan, our Taiwan Representative Office will manage studies conducted by QPS-Qualitix (subsidiary of QPS Holdings).
If you are a Japanese, please fell free to contact our project manager in Japanese.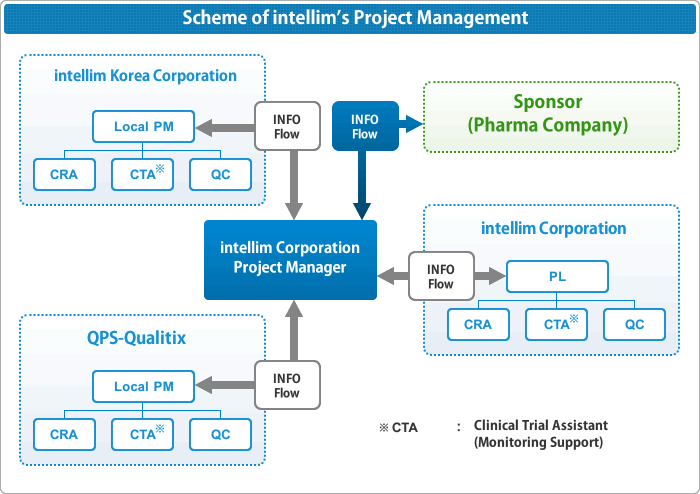 >>PM's summary of career
Feature 2
intellim can propose appropriate institutions and investigators for your studies, because intellim has broad network in Asia and other region.
Feature 3
In case of Asian Study, we conduct your study with our unified SOP to meet each country's regulation. Obviously, we can conduct your study as per your SOPs.
Feature 4
intellim Korea implemented Oncology CRA Accreditation Program which is completely same program implemented in Japan in 2011. It makes our CRAs' knowledge and capability be consistent quality.
Feature 5
Services provided by QPS Holdings
intellim will propose appropriate services of QPS Holdings including PK analysis, Data Management, Statistics analysis.
Please feel free to ask us about their services not only above mentioned, but also clinical research in China, Taiwan and India.
If you would like to conduct "First in Human" study, intellim can support to conduct it with QPS Holdings.
>>For more details(About QPS Holdings)
Our Future Business
intellim is planning to expand our business to the other Asian countries, e.g. Hong Kong, Thailand, Malaysia, Singapore and others, and also preparing to provide the other scope of business.
Please feel free to contact us if you would like to conduct clinical studies in the other region not mentioned on the website, and the other services not mentioned on the website.